02.06 – 19.07.2020 / PALÁCIO DAS ARTES
ANUÁRIO 19
Anuário is an exhibition and, simultaneously, a project of reflective analysis of curatorial and artistic practices in Porto during a one year period. This project – included in the platform Pláka, which encompasses the city council's policies in support of contemporary art – was created by João Ribas and Guilherme Blanc and is annually developed by a group of five curators who they invite to monitor, document and analyse artistic projects presented in public spaces in the city. This is an exhibition that results from a continuous reflection on artistic production and a shared curatorial process, in which the five curators' perspectives converge into a common understanding of the art practice in Porto over the last year.
ANUÁRIO 19
Palácio das Artes / Fundação da Juventude

Curated by:
Catarina Miranda
Eduarda Neves
Filipe Marques
Samuel Silva
Simão Bolívar

Commissioned by:
Guilherme Blanc
João Ribas

Artists:
ACCA (André Covas + Carmo Azeredo)
Ângelo Ferreira de Sousa

António Poppe
Bergado & Terebentina
Carla Castiajo
Carlos Arteiro
Carlos Mensil
Celeste Cerqueira
Dan Halter
Daniel Moreira & Rita Castro Neves
Ece Canli
Emídio Agra
Fabrizio Matos
Flávio Rodrigues
Francisco Tropa
Guilherme de Sousa & Pedro Azevedo
João Baeta
João Gabriel
João Pedro Trindade
Jonathan Uliel Saldanha
Marco Pires
Mariana Barrote
Mauro Cerqueira
Mauro Ventura
Nuno Ramalho
Patrícia Geraldes
Paulo Ansiães Monteiro (PAM)
Pedro Tudela
Ruca Bourbon
Susana Chiocca
Tiago Afonso
Tomás Abreu
Vera Mota

Photo:
Dinis Santos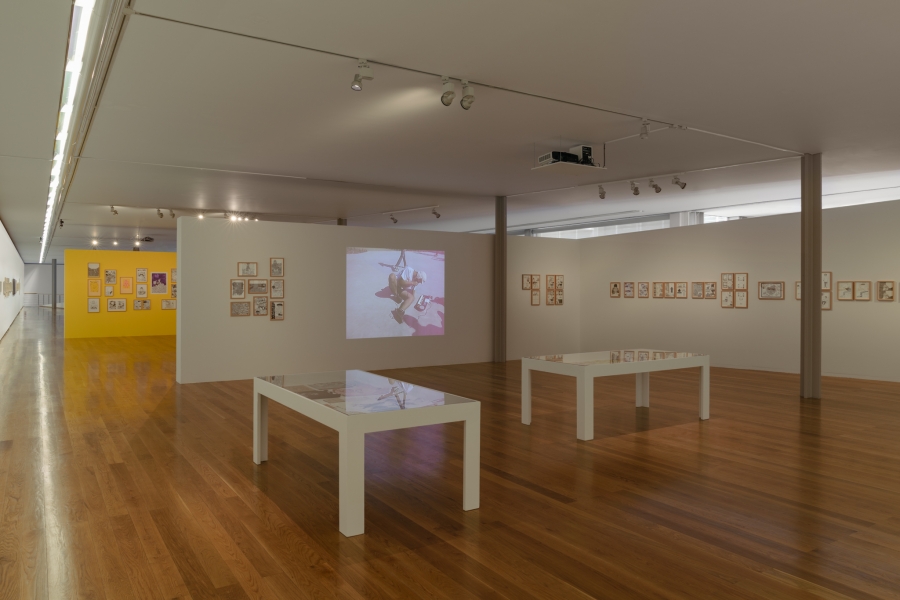 02.06 – 16.08.2020
APESAR DE NÃO ESTAR, ESTOU MUITO
DIOGO JESUS
Diogo Jesus has produced drawings, writing, comics and music under various pseudonyms for over a decade. Self‑publishing and editing fanzines and music at the age of 16 as RUDOLFO, he has created over 40 independent publications and participated in various anthologies of comics in Portugal and abroad, as well as collaborating with a variety of artists, musicians, and writers. Curated by João Ribas (former director of the Serralves Museum and curator of the Portugal Pavilion at the 58th Venice Biennale, 2019), the exhibition features the artist's autobiographical obsessions and distinct take on popular culture. The cast of people, mutants, aliens, and everything in between found in his drawings and comics provide an ongoing commentary on questions of creativity, gender and masculinity, and the conditions of making art, while pushing the boundaries of the genres of the comic book. Apesar de não estar, estou muito collects drawings, objects, videos, and writings from a variety of the artist's projects and publications since 2007, from his first independently published underground comics, to his recent projects as DJ Nobita and Gekiga Warlord, all defined as much by sardonic humour as eviscerating honesty.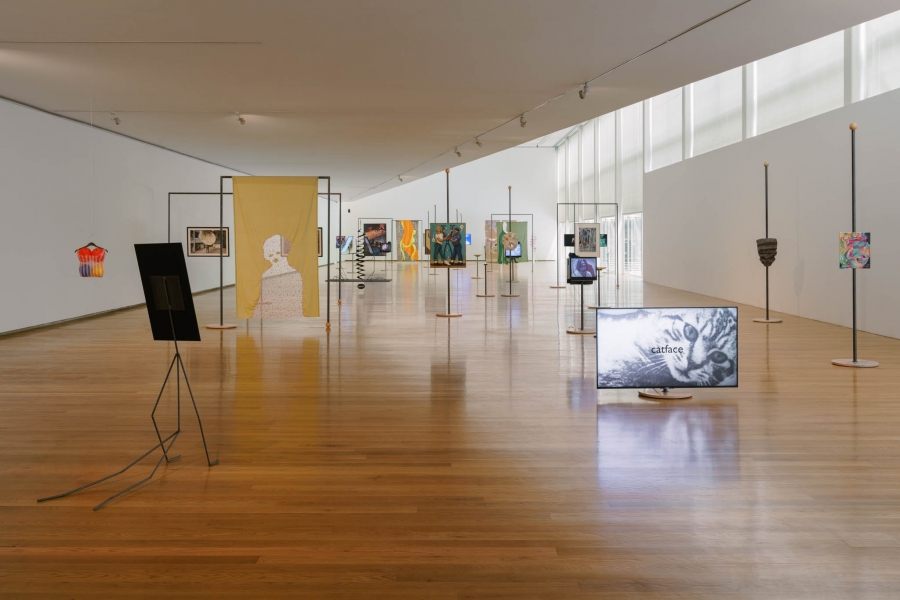 02.06 – 16.08.2020
MÁSCARAS (MASKS)
Masks have a longstanding place in the history of societies. As a symptom of a time of extreme change, masking techniques have gained a renewed traction and urgency, materialising in a number of guises. From online avatars used for activism, entertainment or propaganda, to different dynamics that empty or occupy our streets, our everyday ritualised life is now filled with practices of caricature, camouflage, disguise, face-swapping, masquerade, mimicry, protection, ridicule, social makeup and transformation, among others. João Laia (chief curator of exhibitions at Kiasma Museum of Contemporary Art) and Valentinas Klimašauskas (curator and writer, co-curator of the Latvian Pavilion at the 58th Venice Biennale, 2019) propose a look into the ongoing radical reshaping of our multiple historical, sociopolitical, sexual and transcendental identities, inquiring about the current processes in which we shape-shift from one to the other.
Curated by:
Valentinas Klimasauskas
João Laia

Artists:
Caroline Achaintre
Bora Akinciturk
Evgeny Antufiev
Jakub Choma
Joana da Conceição
Adam Christensen
echho + seashell
Justin Fitzpatrick
David Hall
Kiluanji Kia Henda
Sidsel Meineche Hansen
Elena Narbutaitė
Joanna Piotrowska
Adrian Piper
Laure Prouvost
Jacolby Satterwhite
Cindy Sherman
Victoria Sin
Jonathan Uliel Saldanha
The Dazzle Club
Amalia Ulman

Photo:
Dinis Santos