PINGS!
PINGS! are young students between 16 and 22 years old who get to know and follow GMP's activities, dialoguing with curatorial teams, artists and other guests, participating actively in the daily life of an artistic institution.
PINGS! invent formats and methodologies of meeting, dialogue and sharing of ideas as they discover the way an art centre works, its agendas and operational logic.
PINGS! will continue the project in their classes and educational contexts through guided visits, moderating talks, making audio-visual materials or other modalities they want to propose and implement.
PINGS!
will dialogue and collaborate with researchers like Marílio Wane, artists like Paula Pin or curators like Pablo Berástegui, among others, through workshops, conversations and interviews in the scope of the three programming axes Gineceu+Estigma, Memória de Elefante and Exodus. Each pings! session will be recorded in a
podcast
with the collaboration of Mariana Sardon.
ping! / pings! / May 22
0.0 Warm-up meeting
The meeting was called 0.0 because it was a first moment of sharing between participants. Some group dynamic actions were proposed and a route was taken where there was a dialogue about the history and landscapes of the Palácio de Cristal gardens.
ping! / schools / July 1
0.1 Exodus walk with Pablo Berastagui
The Pings! got together again, this time on an EXODUS tour guided by Pablo Berástegui. Conceived by the director of the documentary photography project Salut au monde! and cultural producer, the itinerary showed the northern side of Bonfim, a neighborhood that has become a place of residence and work for a growing number of artists. The visit to new projects and independent cultural spaces and the dialogue with their creators and programmers, allowed us to understand how these projects materialize in different scales and structures, complementing and contributing to the neighborhood.

Cultural producer, Pablo Berástegui is director of the documentary photography project Salut au monde!, based in Porto. He was director of the International Photography and Visual Arts Festival PhotoEspaña. He was also General Director of San Sebastián 2016 European Capital of Culture, Director of La noche en blanco de Madrid and responsible for the cultural spaces Matadero Madrid and Centro Conde Duque (2013). He currently teaches in cultural management and curatorial courses in different faculties in Spain.
ping! / Schools / July 23rd
0.2 Workshop with Paula Pin: BIO.TRANS.LAB
The workshop proposed by Paula Pin, is part of the Bio-trans-lab project, one of the modules of the hackteria.org platform. Materialized in a van, the CyanoVan is a nomadic science laboratory, open to experimentation with the body and technology, in a logic of learning by doing. The mobile project, which has travelled the world, seeks to disseminate and activate scientific processes open to the community, bringing the queer transhackfeminist laboratory to the space of the gardens of Palácio de Cristal.

Artist and activist Paula Pin's practice combines science, biology and queer identities in the realisation of projects that take the form of interactive sculptures, installations, performances, walks and laboratory experiments, in which the body relates to the world in unusual ways.
Pin organises techno-feminist workshops and has collaborated since 2012 in the extensive bio-hack network, Hackteria (which unites body and nature). Pin has collaborated with institutions such as CERN (European Organization for Nuclear Research), Geneva; Bergen Assembly; Hangar, Barcelona and KASK, Gant.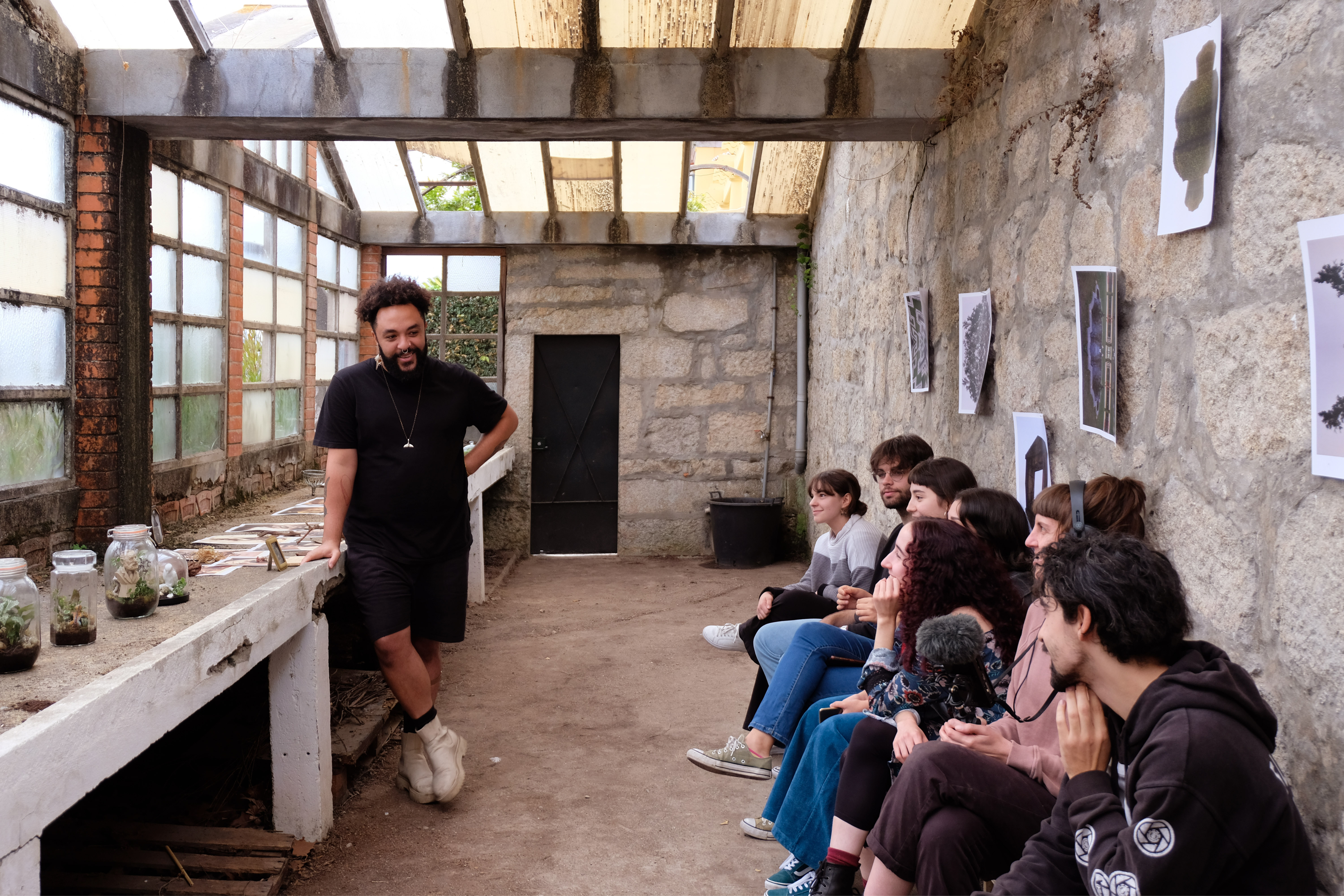 ping! / schools / October 15
0.3 Workshop Terrários de Cristal, with Samuel Wenceslau
Artist Samuel Wenceslau has been making incursions into the gardens of Palácio de Cristal in order to build an architectural and poetic interpretation of the place, but also to collect plants that can germinate inside a wardiana box, an 19th-century terrarium that recreates a particular ecosystem.
In the workshop, micro-landscapes were built, enclosed by an iron and glass structure, where participants added images that revisit the First Portuguese Colonial Exhibition. Here, they reflected on ideas of possession and the exposing of bodies, but also on domestic objects as a metaphor for personal relics and collections. Ultimately, we sought to discuss themes such as the colonial domination of bodies and standardized logics of beauty and nature through these Crystal Terrariums.
Artist Samuel Wenceslau has a deep interest in nature, in particular Brazilian botany, exploring organic forms and lines in collages, drawings, photographs, paintings, objects and other graphic creations. As he is also artistic director and producer of the Kebraku Collective, Wenceslau created the Graphic Studiolo, a graphic inventory of natural forms from the flora of South America and, more recently, Europe. "My plates look botanical, but the classifications I used are all imagined," he says. Apart from the technical side, he distinguishes himself from traditional botany by his refusal of perfection. He doesn't look for leaves or flowers that are intact, but those that show the "interference of time and nature".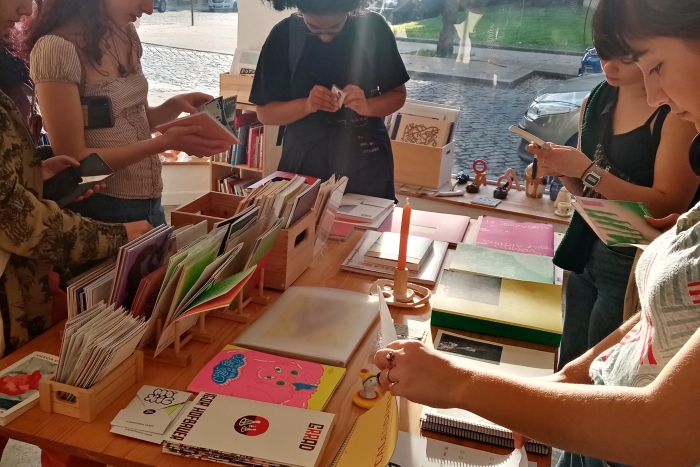 ping! / schools / November 12
0.4 Walk with Lola Rodrigues
The Exodus route guided by Lola Rodrigues (SoundPreta) had the intention of visiting multicultural and plural spaces of resistance that count with the participation of multidisciplinary artists and where people from different backgrounds gather, from music to graffiti.
Most of the spaces and ateliers selected to take parte in this Exodus are run by immigrants, and the common thread between them is the space for speech, self-management, and collective construction.

Lola Rodrigues was born in Brazil in Curitiba, she studies and works in Porto. Currently she dedicates her time to the curatorship master degree at Universidade de Belas Artes do Porto and to works related to curatorship and music, having also a musical project called SoundPreta. As a curator, Lola has an eye and interest for the visual arts of African Diaspora artists and their representativeness, as a DJ, Lola incorporates the role of storyteller and for each set she prioritizes music from women, black artists and the LGBTQ+ community. She is a political activist and belongs to UNA - União NEGRA das Artes an initiative, which emerges in the scope of the anti-racist fight and the affirmation of negritude in Portugal.